Descripción del Proyecto
Long Life IV Detox Clinic Marbella Web Design
WordPress Multilingual Website
Clínica Long Life IV Detox Marbella por el Dr. Jean Garant Mendoza, apasionado por ayudar a las personas a cuidar su salud en general como profesionales. Él es canadiense de nacimiento y habla con fluidez francés, español e inglés. Estudió medicina en la Universidad de Medicina en Málaga, España y es un médico con licencia completa. Se especializan en tratamientos de reemplazo IV Detox y Hormone.
El Dr. Mendoza nos pidió que volviéramos a diseñar y desarrollar su enfoque nuevo y novedoso para el sector de antienvejecimiento en Marbella. El sitio estaba muy bien planificado y diseñado a la perfección para dar un enfoque fresco y minimalista a su empresa. El énfasis en los detalles con sus tratamientos IV Detox en su clínica del centro de Marbella.
El diseño general y los diseños de página tendrían coherencia en las nuevas líneas de diseño de página a página, para usar como marca en línea para el nuevo aspecto de la empresa. También creamos un nuevo logotipo para Long Life Clinic, que era una tortuga, de ahí la imagen de longevidad y larga vida. La combinación de colores limpios y el estilo profesional se desarrollaron para ofrecerles un estilo específico que coincidiera con la profesionalidad de los médicos.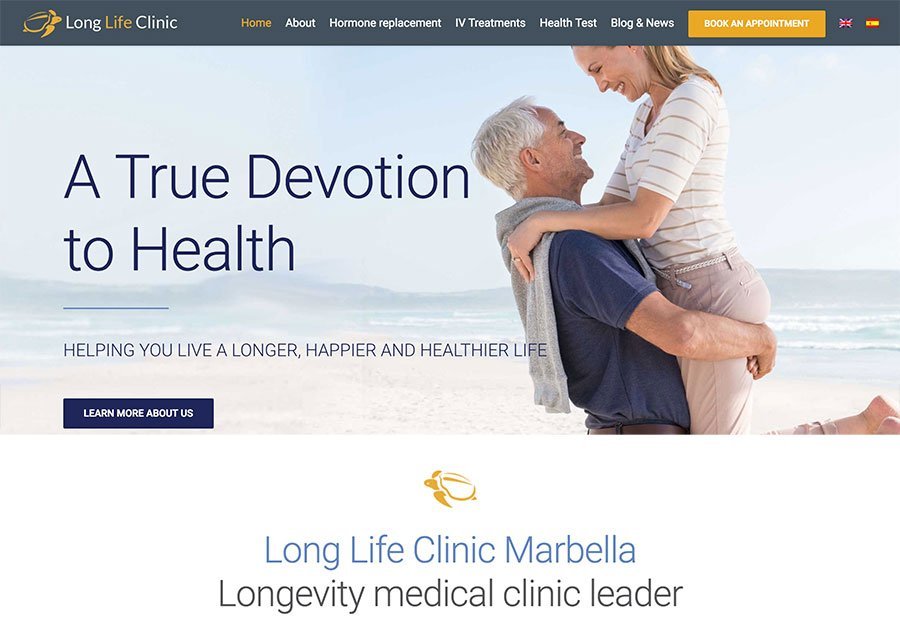 Custom web Design

Minimal design details Company Branding.
New Online Logo Design.
Information on IV Detox Treatments
Information on Hormone Replacement therapy
Custom images to highlight business
Multilingual website with WPML
Online eCommerce facilites
Diseño web y diseño: diseños fluidos nítidos, limpios y de ancho total. Los clientes pueden controlar todos los aspectos del sitio web y tener varios idiomas que son fáciles de controlar y están optimizados para Google para cada idioma. Prioridad en la página de inicio para proporcionar información general sobre los Consultores de MPM y mostrar las imágenes de perfil del equipo de la empresa. Información de contacto, incluido un número de teléfono, formulario de contacto y ubicación física.