Project Description
Long Life IV Detox Clinic Marbella Web Design
WordPress Multilingual Website
Long Life Clinic IV Detox Marbella by Dr. Jean Garant Mendoza who is passionate about helping people take care of their overall health a professional. He is Canadian by birth and speaks fluent French, Spanish and English. He studied medicine at the University of Medicine in Málaga, Spain and is a fully licensed physician. They specialize in IV Detox and Hormone replacement treatments.
Dr Mendoza asked us to have re design and develop their fresh new approach to the Anti Ageing Sector in Marbella, The site was very well planned and crafted to detail to give a minimalist fresh approach to their company. The emphasis on detail with their IV Detox treatments in their Marbella centre clinic.
The overall design and page layouts were to have consistency throughout new design lines from page to page, to use as an online branding for the companies new look. We also created a new logo for Long Life Clinic which was a turtle, hence the image of longevity and long life. The clean color scheme and professional style was developed to offer them a specific style that matched the Doctors professionalism.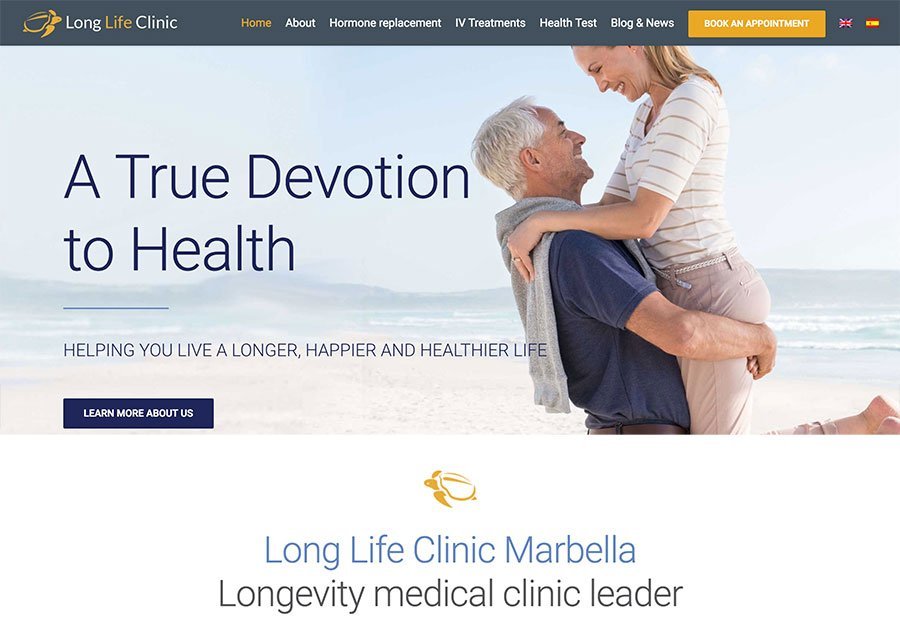 Custom web Design

Minimal design details Company Branding.
New Online Logo Design.
Information on IV Detox Treatments
Information on Hormone Replacement therapy
Custom images to highlight business
Multilingual website with WPML
Online eCommerce facilites
Web design and Layout: crisp, clean, and full width fluid layouts. The clients can control all aspects of the website, and having multiple languages that are easy to control and are Google optimised for each language. Priority on the home page to provide general information about MPM Consultants and show the company team profile images. Contact information, including a phone number, contact form and physical location..