Free WordPress Real Estate Plugin
Real Estate Web designs and WordPress themes, Mobile ready, Property portals WordPress Plugin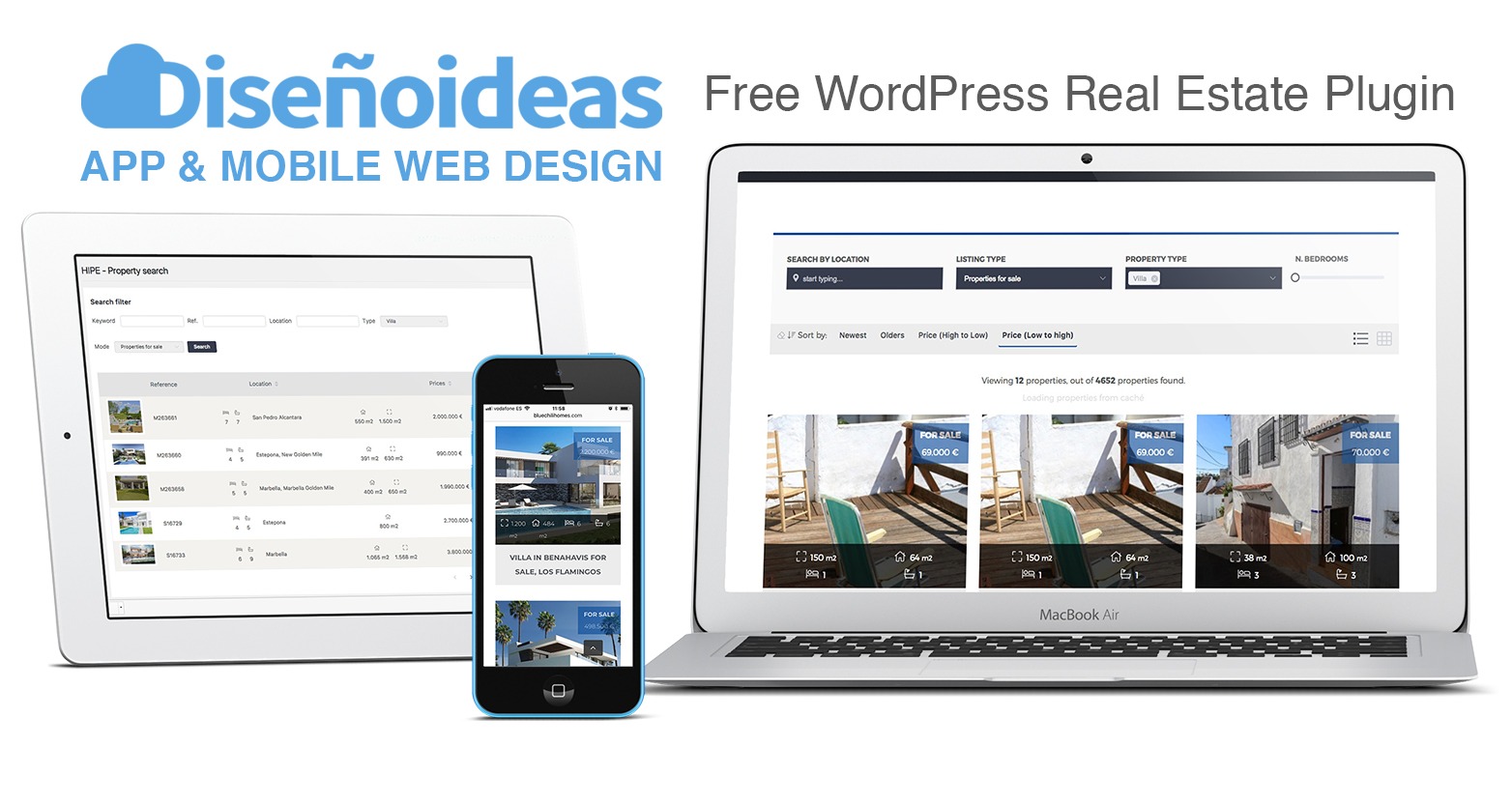 Property Listing Websites Real Estate websites.
Property listing websites built on WordPress CMS, we design dynamic Multilingual Real Estate listing websites that make it possible to showcase your properties
Real Estate Website Design.
Free WordPress Real Estate Plugin.
Disenoideas Marbella are pleased to announce that we have just published our WordPress plugin, a plugin for real estate agencies that we have developed to measure and with all the love that we usually put into our work. The Free WordPress Real Estate Plugin currently only works with a CRM provider for real estate, but we will incorporate new ones as we are going to require such implementations.
The plugin was initially produced for a Marbella client Blue Chilli Homes, a real estate agency in Marbella. We have been commissioned to make a plugin for WordPress that is able to connect with your own CRM, a shared database with countless local Real Estate Agencies managed and maintained by Milenio Plus, a CRM software that works extraordinarily well, we can highly recommend.
Thanks to our work, the client database is clean and does not need to be updated, every time a client searches through the search engine they will be accessing the updated data instantly, this is because all searches It performs directly with the API of its CRM and with it we achieve that the load of the same and the weight of 20,000 properties is fluid and without losses, minimising the consultations.
Technological challenges
The Real Estate plugin for WordPress has been developed using strict detailed guidelines set by WordPress, in order to provide the customer with a control panel where we can configure certain aspect of the searches and the results that we show the final customer.
To configure the presentation of the elements aesthetics, the language used to make the views on this occasion has been Vue JS, we have chosen it for the versatility it offers us isolating objects and compatibilities.
One of the main challenges we have had to face has been to make the plugin compatible with any WordPress template, there are lots of templates and different CSS frameworks to make templates, that's why if we wanted it to be compatible with most of the we had to do something independent of any framework, in our case we were able to abstract all the classes when they were infected when the components were rendered thanks to VueJS. It has been a great obstacle, but as always our team at Sunnyface.com has managed to keep up, we remain unbeaten!, another challenge achieved.
We wanted to publish a free version of the plugin so that anyone who wants it can install it easily in any website created with WordPress, provided they have the necessary knowledge.
The software is able to search the database efficiently, caching user preferences and results to optimize navigation and access to data.
Besides being highly configurable with this plugin you have access to a variety of visualisation forms, intelligent searches by property types and locations, view of the photos as a slide and the option to be translated into any language.
The plugin can be downloaded from one of our repositories for free by clicking on the following link:
[Download free WordPress plugin compatible with Milenio Plus]
Find Out More About Our Custom WordPress Web Design, Plugins & Learn How We Can Help You!
give us a call on +34 952 773 692 or +34 630 331 317
Website Design
2021-07-02T12:21:52+00:00
Kensira Homes Real Estate WordPress Website & ReSales Online Plugin Kensira Homes Estate Agents asked us to design their new WordPress website and connect the site to ReSales Online using [...]
Website Design
2021-06-16T10:08:08+00:00
Real Estate Website & ReSales Online Plugin  for WordPress Mijas Real Estate Agency, Palm Dream Estates asked us to re design their website using WordPress and connect the site to [...]
Website Design
2019-11-16T17:42:45+00:00
Magna Real Estate / lawyers / Architects Agency Marbella WordPress Real estate / WordPress Plugin for ReSales online Magna Dream Homes Marbella offers a fully managed property sales, / Lawyers [...]
We'd love to hear
about your project.
Connect with our social networks