WordPress Real Estate Plugin
Real Estate Web designs and WordPress themes, Mobile ready, Property portals WordPress Plugin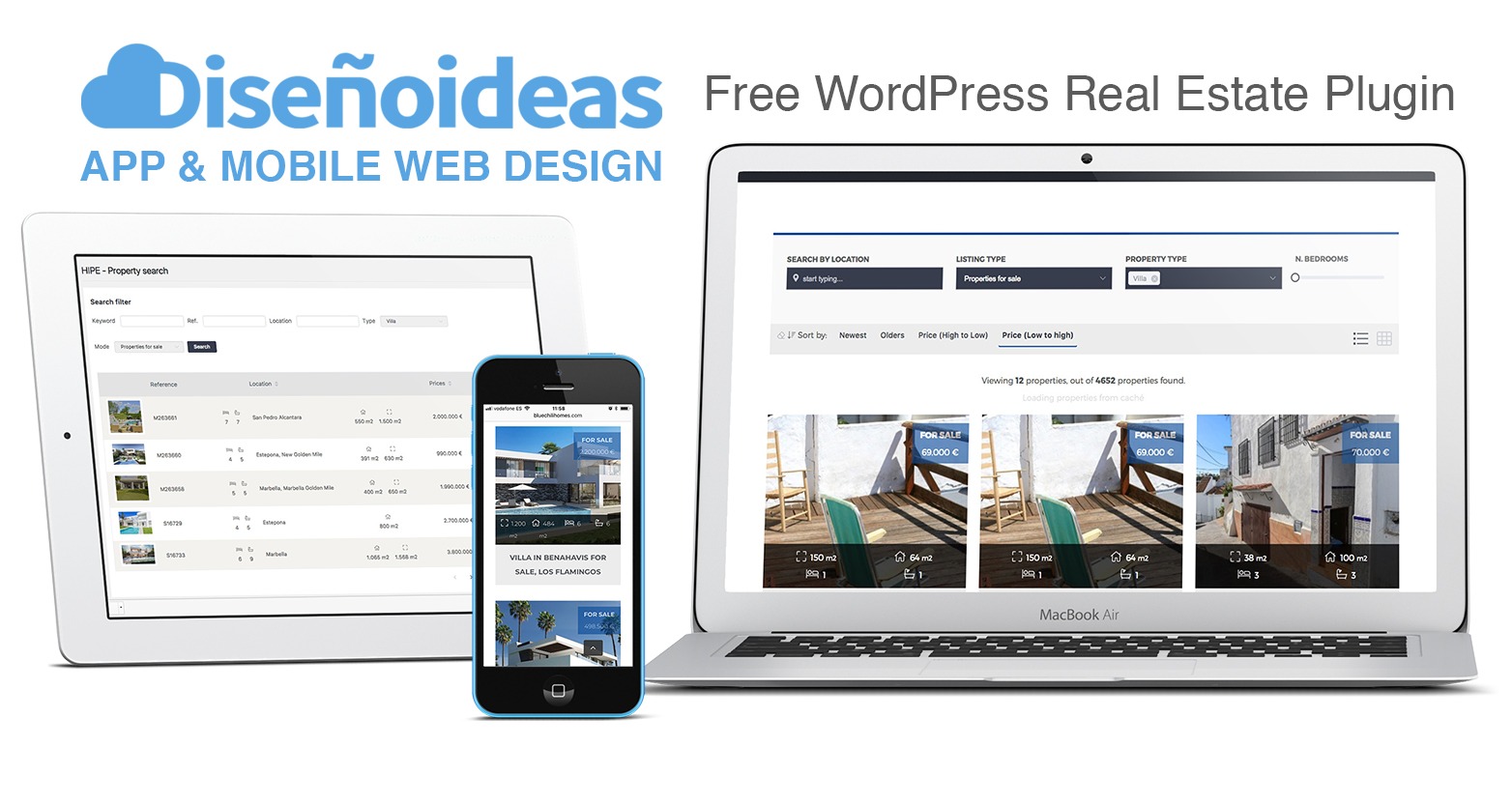 Property Listing Websites Real Estate websites.
Property listing websites built on WordPress CMS, we design dynamic Multilingual Real Estate listing websites that make it possible to showcase your properties
Real Estate Website Design.
WordPress Real Estate Plugin for Resales Online.
Disenoideas Marbella have create a WordPress plugin to connect your website to ReSales Online using their API.
As a Real estate company on the Costa del Sol, you will probably be aware of ReSales Online, who offer all the  available properties for sale and the best new developments for sale and for rent. Our minimal plugin can be installed into your website, usually on the same day. It allows you to offer all the available properties for sale that are featured through the ReSales Online property portal.
Thanks to our work, the plugin allows the properties to feed to your website through their API system, keeping all the data off your database and directly fed to your site. every time a client searches through the search engine they will be accessing the updated data instantly, this is because all searches It performs directly with the API of its CRM and with it we achieve that the load of the same and the weight of 20,000 properties is fluid and without losses, minimising the consultations.
One of the main challenges we have had to face has been to make the plugin compatible with any WordPress template, there are lots of templates and different CSS frameworks to make templates, that's why if we wanted it to be compatible with most of the we had to do something independent of any framework, in our case we were able to abstract all the classes when they were infected when the components were rendered thanks to Vue JS. It has been a great obstacle, but as always our team at Disenoideas has managed to keep up, we remain unbeaten!, another challenge achieved.
The software is able to search the database efficiently, caching user preferences and results to optimize navigation and access to data.
Besides being highly configurable with this plugin you have access to a variety of visualisation forms, intelligent searches by property types and locations, view of the photos as a slide and the option to be translated into any language.
[Download our WordPress plugin compatible with ReSales Online]
Find Out More About Our Custom WordPress Web Design, Plugins & Learn How We Can Help You!
give us a call on +34 952 773 692 or +34 630 331 317
Website Design
2022-05-23T15:29:17+00:00
Kensira Homes Real Estate WordPress Website & ReSales Online Plugin Kensira Homes Estate Agents asked us to design their new WordPress website and connect the site to ReSales Online using [...]
Website Design
2021-06-16T10:08:08+00:00
Real Estate Website & ReSales Online Plugin  for WordPress Mijas Real Estate Agency, Palm Dream Estates asked us to re design their website using WordPress and connect the site to [...]
Website Design
2019-11-16T17:42:45+00:00
Magna Real Estate / lawyers / Architects Agency Marbella WordPress Real estate / WordPress Plugin for ReSales online Magna Dream Homes Marbella offers a fully managed property sales, / Lawyers [...]
We'd love to hear
about your project.
Connect with our social networks