Project Description
Marbella Pest Control Services Local Pest
WordPress website design
Local Pest In Marbella  and the whole Costa del Sol are dedicated to all kinds of pest control, we are friendly to the environment and we give the most effective pest control provided by the latest technologies applied to pest control.
Local Pest Services Marbella asked Disenoideas to create a new website that is mobile friendly and uses the latest Progressive Web App technology offering the service of adding their website icon directly to your desktop or ass an APP button on your Android or Iphone so you see the website as an APP.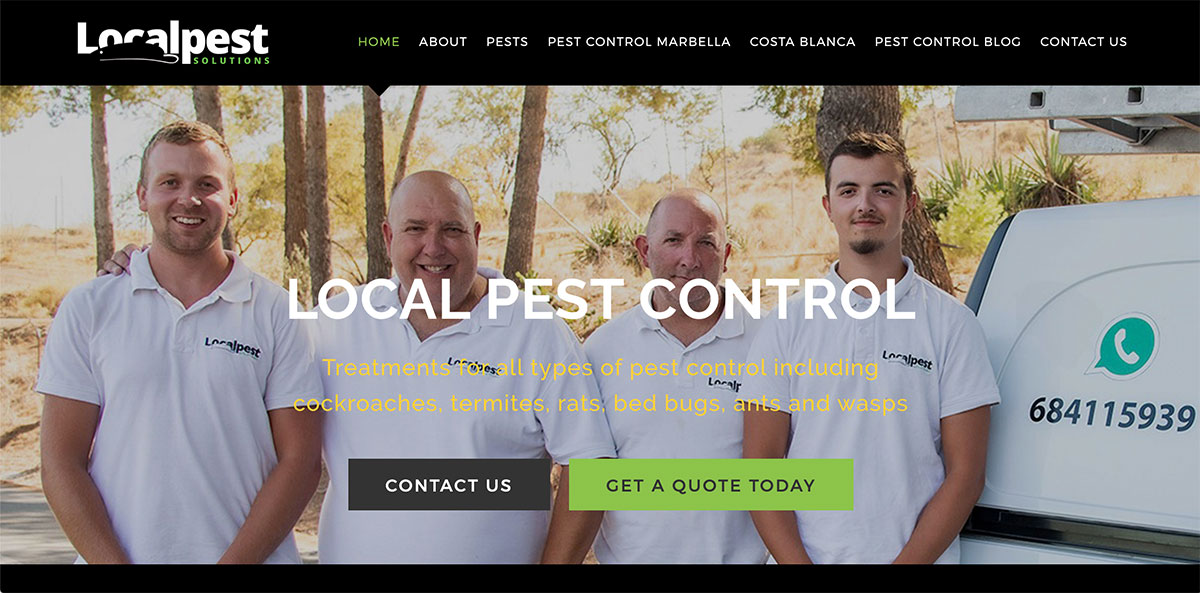 The website design and page layouts using the branded colors of Marbella Local Pest servcies. The website allows clients to see the full range of services that Local Pest offer, They have recently expanded to the Costa Brava and are soon to hit more provinces of Spain.
Custom WordPress Design

Minimal design Company Branding.
New Logo Design
Mobile friendly designs
Progressive Web APP technology
Social media and SEO friendly
Web design and Layout: crisp, clean, and full width fluid layouts. The clients can control all aspects of the website, full optimised for Google search engines and all social sharing options. Priority on the design of the pages keeping to the minimal effect of space and bold typography.

LOCAL PEST ARE 100% BEE FRIENDLY – Please ask for detailshoney-bee-local-pest-control-specialists
Our pest control service covers the whole Costa Del Sol. So if you are in Marbella and need Pest Control, or Sotogrande, Estepona, Benalmadena, Fuengirola, Malaga, Alhaurin, Competa, Torrox and yes Nerja….. we have you covered. If you are in Malaga province we have a Pest Control professional near you. If you are beyond simply get hold of us and ask, the answer will probably be yes!