Descripción del Proyecto
Servicios de control de plagas en Marbella Plagas locales
WordPress website design
Plagas locales En Marbella y toda la Costa del Sol estamos dedicados a todo tipo de control de plagas, somos amigables con el medio ambiente y brindamos el control de plagas más efectivo proporcionado por las últimas tecnologías aplicadas al control de plagas.
Local Pest Services Marbella le pidió a Disenoideas que creara un nuevo sitio web que sea amigable para dispositivos móviles y que utilice la última tecnología de Progressive Web App que ofrece el servicio de agregar el ícono de su sitio web directamente a su escritorio o colocar un botón de APP en su Android o Iphone para que vea el sitio web como una aplicación.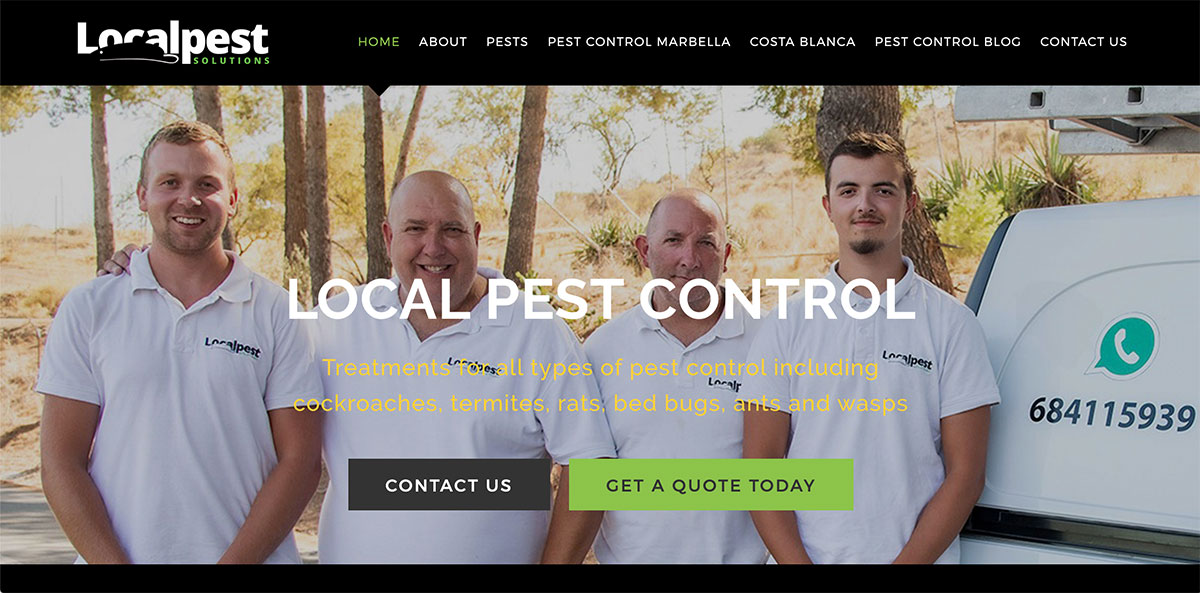 El diseño de la página web y los diseños de página con los colores de marca de los servicios de Marbella Local Pest. El sitio web permite a los clientes ver la gama completa de servicios que ofrece Local Pest. Recientemente se han expandido a la Costa Brava y pronto llegarán a más provincias de España.

Custom WordPress Design

Minimal design Company Branding.
New Logo Design
Mobile friendly designs
Progressive Web APP technology
Social media and SEO friendly
Diseño web y diseño: diseños fluidos nítidos, limpios y de ancho completo. Los clientes pueden controlar todos los aspectos del sitio web, totalmente optimizado para los motores de búsqueda de Google y todas las opciones de intercambio social. Prioridad en el diseño de las páginas manteniendo el efecto mínimo del espacio y la tipografía en negrita.

LOCAL PEST ARE 100% BEE FRIENDLY – Please ask for detailshoney-bee-local-pest-control-specialists
Our pest control service covers the whole Costa Del Sol. So if you are in Marbella and need Pest Control, or Sotogrande, Estepona, Benalmadena, Fuengirola, Malaga, Alhaurin, Competa, Torrox and yes Nerja….. we have you covered. If you are in Malaga province we have a Pest Control professional near you. If you are beyond simply get hold of us and ask, the answer will probably be yes!