2016 Theme WordPress Twenty Sixteen
WordPress 4.4 will see a brand new default theme;
2016 Theme WordPress Twenty Sixteen is a modernized take on an ever-popular WordPress layout — the horizontal masthead with an optional right sidebar that works perfectly for blogs and websites. It has custom color options with beautiful default color schemes, a harmonious fluid grid using a mobile-first approach, and impeccable polish in every detail. Twenty Sixteen will make your WordPress look beautiful everywhere.
The annual WordPress theme for 2016 is a modern take on an ever-popular layout. Twenty Sixteen features free custom color schemes, a harmonious post grid that will make your homepage look sharp on any device, and impeccable polish in every detail. Your WordPress will look beautiful with Twenty Sixteen.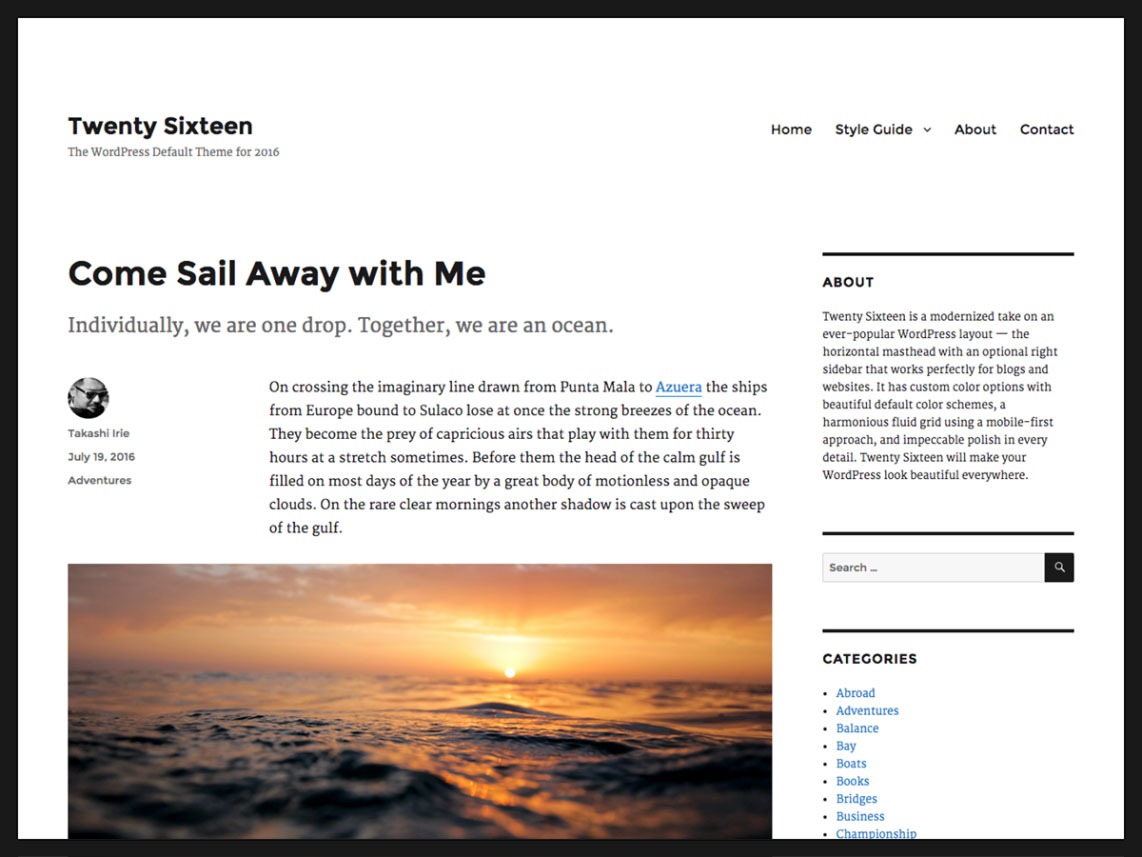 No-Sidebar Layout
If you'd like to keep your visitors' focus squarely on your content, simply don't add any widgets to the sidebar widget area. This also allows you to give your posts a powerful visual boost by adding a large Featured Image, up to 1200px wide.
Content Bottom Widget Areas
Twenty Sixteen's two Content Bottom Widget Areas are handy spots where you can place supplementary content. On single posts and pages, these widget areas display below your content. To add widgets to them, navigate to a single post or page in the Customizer, open the Widgets panel, and add your favorite widgets to one or both areas.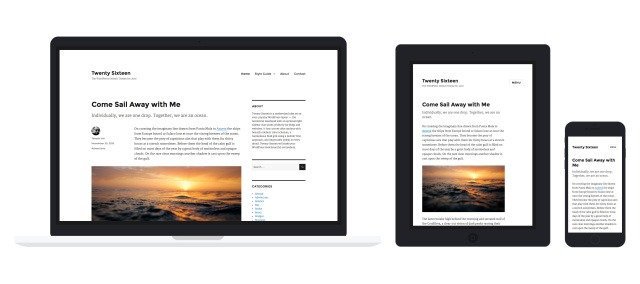 As you'd expect from a default theme, the number of items available to tweak using the Customiser is relatively limited. In addition to the various color schemes, you've got options for including header and background images, along with basic color control and menu and widget settings.
Excerpts, New Widget Areas, and Social Icons
The 2016 Theme Twenty Sixteen gives you a handy way of teeing up your posts with the addition of post excerpts. These enable you to follow up on the promise of a headline and introduce your main content in a visually distinct manner.