Descripción del Proyecto
Marbella Skol – Real Estate Web Design
Real Estate Web Design para Marbella Skol, especializada en apartamentos de lujo en alquiler y villas en venta en Marbella. Su totalmente nuevo y amigable sitio web móvil de 2017 fue diseñado y desarrollado utilizando WordPress CMS y temas personalizados de bienes raíces y complementos premium. Un sitio receptivo y adaptable desarrollado para satisfacer las demandas de sus alquileres de propiedad en línea. Hemos sido responsables del desarrollo de su último sitio web y lo hemos mantenido durante los últimos cinco años.
Abordé el lado tecnológico de las cosas, y opté por una versión responsiva de HTML5 en WordPress. Además de utilizar las capacidades de administración de contenido y gestión de contenido de WordPress, la versión final también incluye una serie de complementos de WordPress Premium y personalizados para extender el control del cliente sobre las plantillas y la apariencia del sitio.
Los aspectos receptivos y adaptativos del diseño web de bienes raíces fueron de particular importancia, especialmente para los teléfonos móviles, ya que una gran parte de los clientes de Marbella Skol usaban sus dispositivos de mano para reservar en línea. el sitio también cuenta con los complementos WPML totalmente traducibles que controlan cada idioma con la ayuda de los motores de búsqueda para mostrar los idiomas deseados en su propio idioma.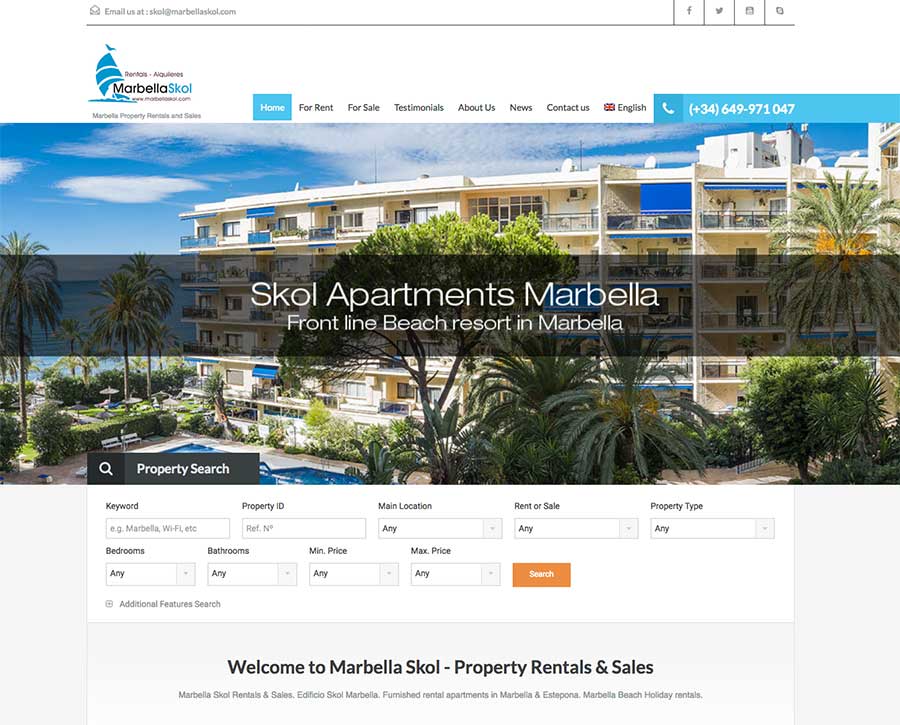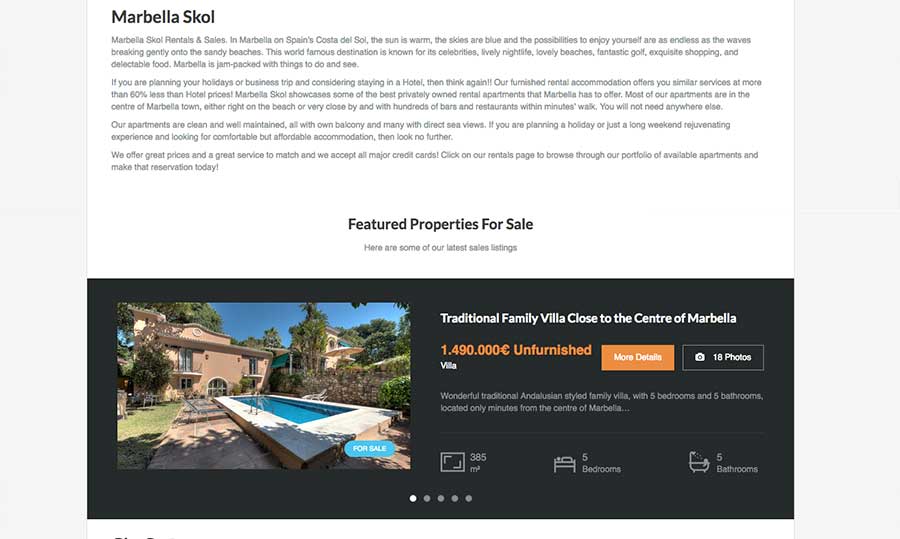 Home Page
Large header images with bold headlines.
Property Rental and sales of featured properties.
Option to show weather in Marbella.
Client Reviews and videos.
Showcase Rental Properties and For sale
Multilingual 100% English and Spanish
Blog Feed
La apariencia general del Real Estate Web Design provino del tema básico elegido por los propietarios del sitio web, fueron muy cuidadosos con la elección y dedicaron tiempo a tratar con el desarrollador para asegurarse de que era totalmente actualizable, receptivo y tenía una buena relación calidad-precio. árbol genealógico. Les preocupaba que encajaba bien con WordPress y tenía todos los elementos básicos de estructura para un sitio web inmobiliario.

Property rental and sales Pages
Pages showcasing latest listings.
Custom search facilities.
Apartment rental booking forms, with calendar search
Custom sidebars with booking forms