Descripción del Proyecto
MPM Consultants Real Estate Web Design
WordPress Website & Minimal Design
Mulder & Partners Marbella es un grupo profesional de consultoría inmobiliaria con sede en Marbella. Se especializan en guiar a los compradores potenciales durante el proceso de adquisición total de bienes inmuebles en Marbella, desde la orientación inicial hasta la transferencia de claves e incluso después. Mulder y Partners se diferencian de la norma de las agencias de bienes raíces en Marbella al centrarse soley en el cliente como un servicio personal seleccionando propiedades debido a sus requisitos específicos.
MPM solicitó que se construyera un sitio que abarque su enfoque nuevo y fresco del sector inmobiliario en Marbella. El sitio fue muy bien planificado y diseñado a la perfección para ofrecer un enfoque fresco y minimalista a su empresa.
Los diseños de página debían tener consistencia en todo manteniendo las mismas líneas de diseño de una página a otra, el esquema de colores limpios y el estilo profesional se desarrolló para ofrecerles un estilo específico que coincidiera con su profesionalismo empresarial.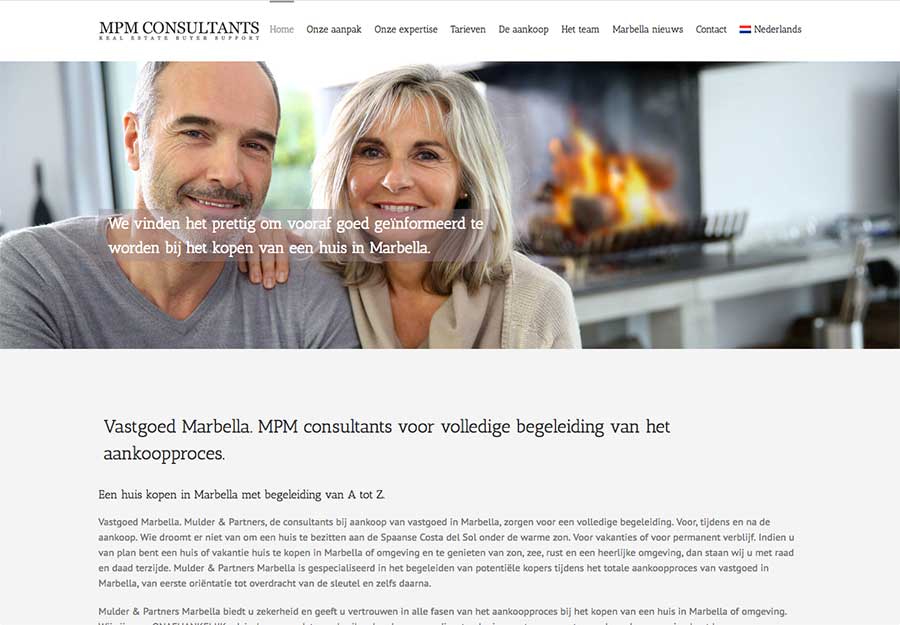 Custom web Design

Minimal design details to keep clean fresh look..
Information direct from the blog to the front page
Team images on front page
Custom images to highlight business professionals
Diseño web y diseño: diseños fluidos nítidos, limpios y de ancho total. Los clientes pueden controlar todos los aspectos del sitio web y tener varios idiomas que son fáciles de controlar y están optimizados para Google para cada idioma. Prioridad en la página de inicio para proporcionar información general sobre los Consultores de MPM y mostrar las imágenes de perfil del equipo de la empresa. Información de contacto, incluido un número de teléfono, formulario de contacto y ubicación física.