Project Description
MPM Consultants Real Estate Web Design
WordPress Multilingual Website & Minimal Design
Mulder & Partners Marbella a professional real estate consultancy group based in Marbella. They specialize in guiding potential buyers during the total procurement process of real estate in Marbella, from initial orientation to key transfer and even afterwards. Mulder and Partners set themselves apart from the norm of Real Estate agencies in Marbella by focusing soley on the client as a personal service selecting properties due to their specific requirements.
MPM asked to have a site built that would encompass their fresh new approach to the Real Estate Sector in Marbella, The site was very well planned and crafted to detail to give a minimalist fresh approach to their company.
The page layouts were to have consistency throughout by keeping the same design lines from page to page, the clean color scheme and professional style was developed to offer them a specific style that matched their business professionalism.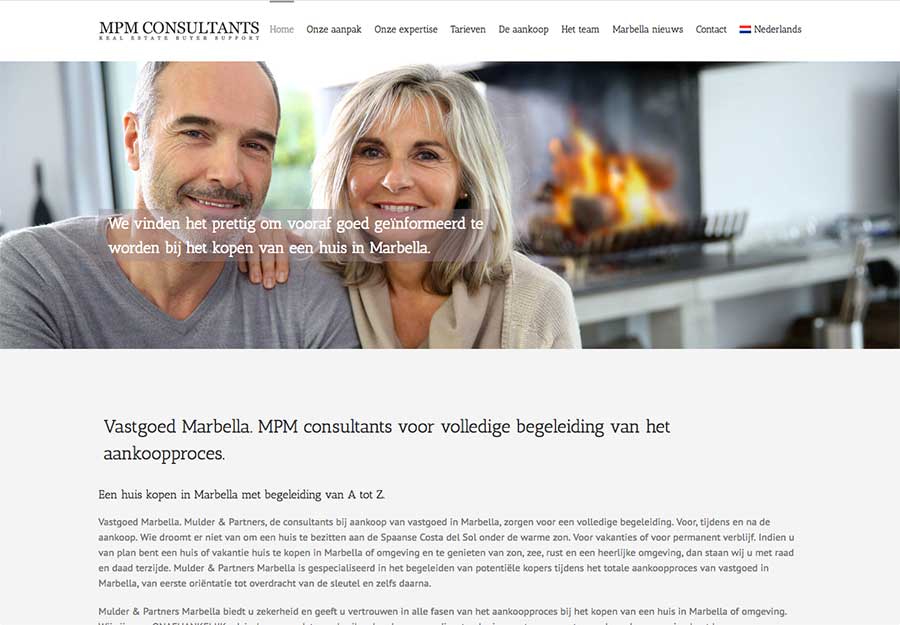 Custom web Design

Minimal design details to keep clean fresh look..
Information direct from the blog to the front page
Team images on front page
Custom images to highlight business professionals
Multilingual website
Web design and Layout: crisp, clean, and full width fluid layouts. The clients can control all aspects of the website, and having multiple languages that are easy to control and are Google optimised for each language. Priority on the home page to provide general information about MPM Consultants and show the company team profile images. Contact information, including a phone number, contact form and physical location..