Descripción del Proyecto
Bagfashionista – eCommerce WordPress Design
Estamos orgullosos de lanzar el nuevo diseño de sitio web multilingüe de comercio electrónico desarrollado en WordPress para Bagfashionista. BagFashionista hace hermosos bolsos de cuero hechos a mano y cubiertas de Ipad originales hechas a mano en sintonía con las últimas modas.
Bag Fashionista comenzó su primera colección de bolsos en 2011 bajo el nombre de Kloé Bags en Marbella, España. Nos pidieron que diseñáramos un nuevo diseño de sitio web receptivo para lanzar su nueva marca de bolsos de diseñador. Necesitaban un sitio web multilingüe que respondiera a todos los dispositivos usando el CMS de WordPress, para poder controlar las ventas de la nueva marca. Diseñamos la tienda web con un ojo atento de Nathalie Van Doren, propietaria y directora de la empresa, que desempeñó un papel importante en la apariencia general del sitio web. La compra en dos clics fue la tarea en cuestión y las opciones de compra fáciles de instalar utilizando el famoso complemento de compras Woocommerce.
Nuestra primera tarea fue hacer que su diseño web, rápido y receptivo cargar varios productos y dar instrucciones detalladas y de uno en uno para mostrar lo fácil que es la tienda para administrar stock, productos y pedidos. Por suerte para nosotros, el equipo de personal multilingüe de Bagfashionista fue muy útil para usar el sistema de administración de contenido y tenía experiencia previa con los sitios web de WordPress. Nuestra principal prueba del diseño fue crear un nuevo logotipo para la marca, y con algunos ítems lanzados hacia adelante y hacia atrás, terminamos amando el nuevo logotipo que juega con las fuentes para crear un logotipo nuevo y nítido.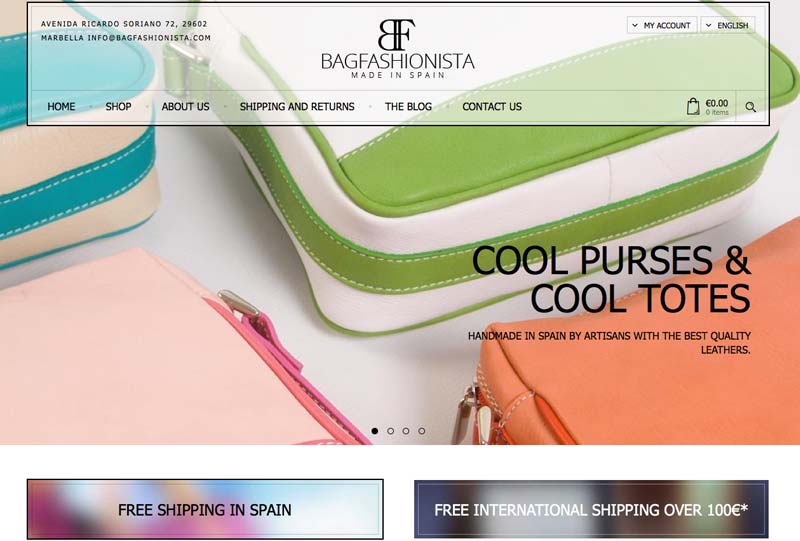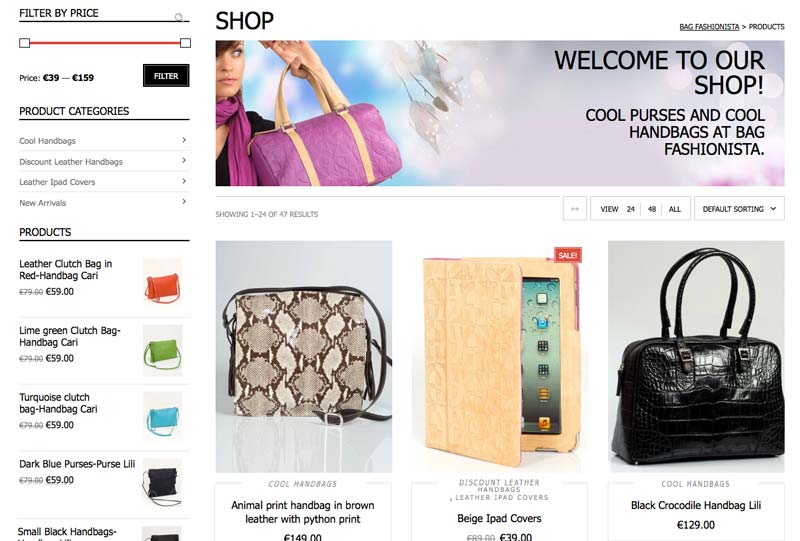 Home Page
Large header images with call to action buttons.
Latest and featured products.
Product categories.
Latest News from the blog and Social media Sharing.
Diseños de páginas de ancho completo con controles deslizantes de ancho completo con sus principales proyectos destacados, se abren en la portada del blog, son fáciles de navegar en cuatro idiomas, todos traducidos completamente con el complemento WPML.
Shopping Page
Full sidebar with every option for easy searches.
Product filters and price filters.
Top rated products.
Fashion Blog

Página de blog multilingüe, publicación de blogs sobre moda, diseño de imágenes grandes y breves extractos de las publicaciones principales. Completo con la búsqueda de categorías de blog.