Descripción del Proyecto
Podium Real Estate – Responsive, Web Design, WordPress
Podium nos solicitó un diseño web fácil de usar y de acceso rápido para su empresa de bienes raíces / agentes inmobiliarios con sede en Marbella.
El sitio web incluye una plataforma para cargar nuevas propiedades diariamente y proporcionar información sobre cada propiedad a clientes potenciales. El sitio fue diseñado incorporando WordPress CMS y utilizando el complemento de soluciones inmobiliarias completas Realia.
El sitio web les permite administrar todas sus propiedades, agentes, alquileres de propiedades y ventas de propiedades. El diseño web es rápido, fácil de usar y sensible para todos los dispositivos, móvil y flexible. Necesitaban un sistema para agregar nuevas propiedades con unos pocos clics, administrar propiedades desde el administrador de WordPress y ser multilingüe. El sitio usa WPML para las opciones multilingües, lo que permite al usuario visitar el idioma correcto al detectar esto desde el navegador.
El sitio está completamente optimizado para el posicionamiento de sitios web. Se han agregado opciones completas de intercambio social para ayudar a Podium a hacer crecer su negocio con nuestros servicios SEO y creativos.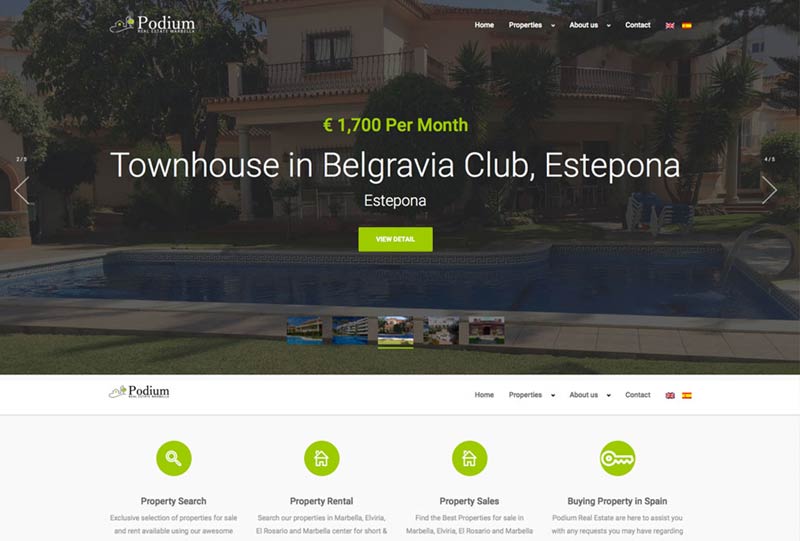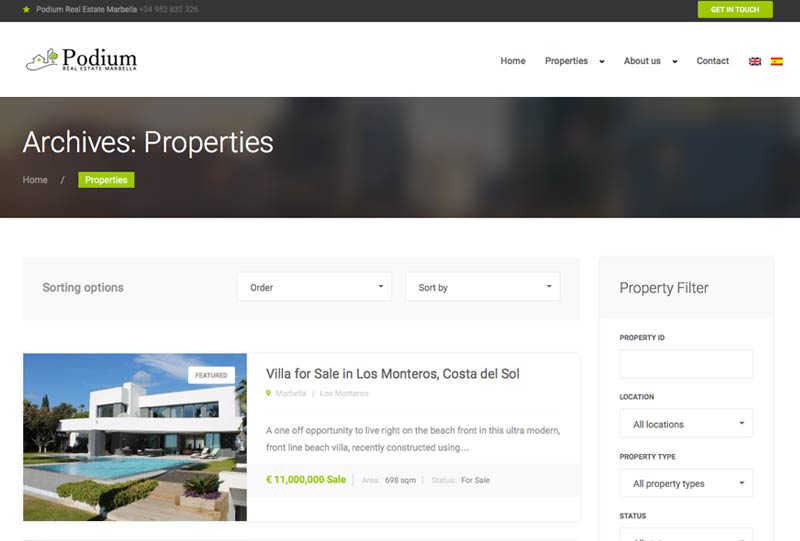 Home Page
Featured property slider.
Editable latest property carousel.
Quick contact and call to action features.
Podium Real Estate tiene uno de los mercados inmobiliarios más competitivos de Europa, Marbella. Pidieron que el sitio web fuera fresco, fácil de usar, imágenes de gran tamaño para mostrar sus propiedades destacadas. Información detallada sobre propiedades, carruseles para mostrar las propiedades más recientes, destacadas y de alquiler / venta. Información de contacto fácilmente visible para que los clientes puedan comunicarse fácilmente.
About us & Property Information Pages
Information regarding company.
Call to action  pages for Property Rentals and Sales.
Listing property and buying laws.
Varias páginas incluidas en el sitio web con información sobre el alquiler y la compra de propiedades. Leyes sobre la compra de una propiedad en España e información general sobre listados de propiedades. Podium Real Estate necesita tener estas páginas incluidas en el sitio web para ofrecer orientación general a los posibles propietarios o propietarios que estén interesados ​​en alquilar sus propiedades.
Property Listing Pages
Properties to Rent & Sell.
Search functions for clients to find the right listing.
Páginas de listado general para mostrar un estilo de galería / cartera de todas las propiedades disponibles que se enumeran en el sitio web de Podium. Se agregó a la navegación principal del sitio web, lo que permite un uso fácil y una búsqueda rápida de las propiedades que figuran en el sitio web.