Project Description
Podium Real Estate – Responsive, Web Design, WordPress
Podium asked us for a Fast Accessible Easy to use web design for their Real Estate / Property Agent company based in Marbella.
The website includes a platform to upload new properties on a daily basis and provide information on each property to prospective clients. The site was design incorporating WordPress CMS and utilizing the Realia complete real estate solution plugin.
The website allows them to manage all their properties, agents, property rentals and property sales. The web design is fast easy to use and responsive for all devices, mobile friendly and flexible. They needed a system to add new properties by a few clicks, manage properties from WordPress admin and be Mulitilingual. The site uses WPML for the multilingual options, allowing the user to visit the correct language by detecting this from the browser.
The site is fully optimised for web site positioning. Full social sharing options have been added to help Podium grow their business with our SEO and creative services.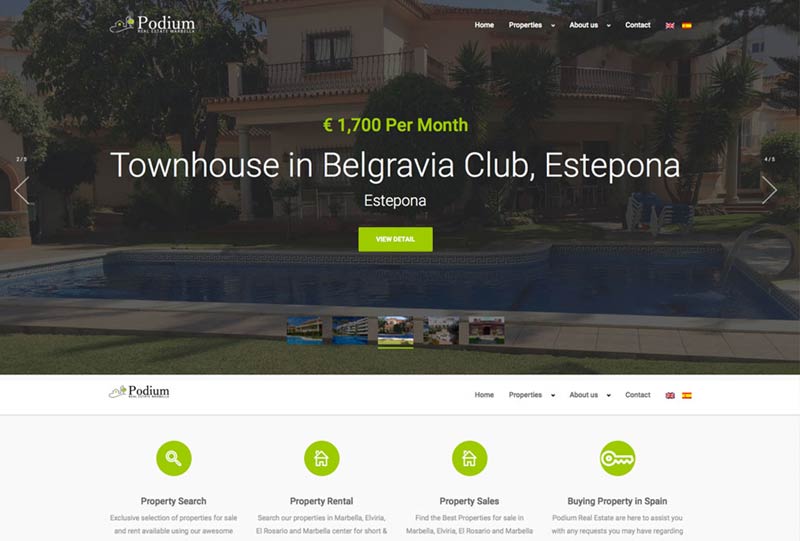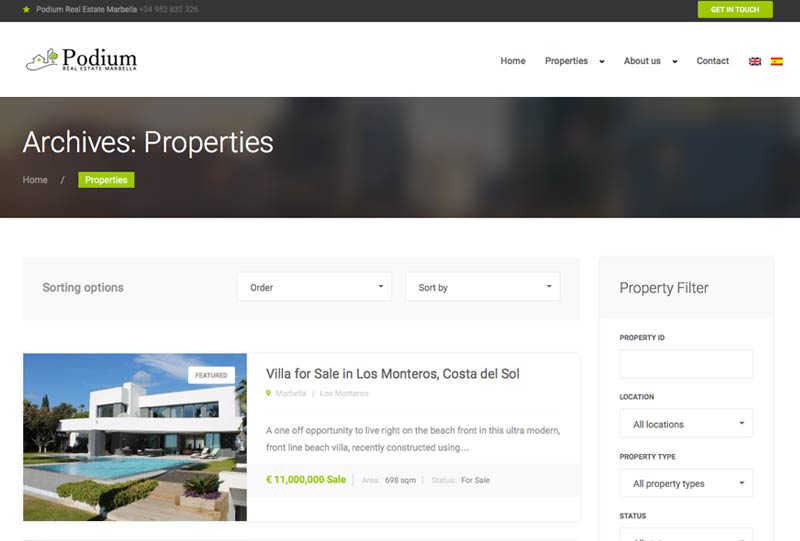 Home Page
Featured property slider.
Editable latest property carousel.
Quick contact and call to action features.
Podium Real Estate has one of the most competitive real estate markets in Europe, Marbella. They asked that the website been fresh, easy to use, large images to show off their featured properties. Detailed information about properties, Carousels to show latest, featured and Rental / Sales properties. Easily visible contact information so that clients can get in touch easily.
About us & Property Information Pages
Information regarding company.
Call to action  pages for Property Rentals and Sales.
Listing property and buying laws.
Several pages included into the website with information on renting and buying property. Laws on purchasing a property in Spain and general information on property listings. Podium Real Estate need to have these pages included on to the website to offer general guidance to prospective property owners or landlords that are interested in renting their property.
Property Listing Pages
Properties to Rent & Sell.
Search functions for clients to find the right listing.
General listing pages to show a gallery / portfolio style of all available properties that are listed on the Podium website. Added to main navigation of the website allowing easy use and quick search of properties listed on the website.