Descripción del Proyecto
Interior cabrio – WordPress Website Development
El diseño del sitio web de WordPress para Interior Cabrio Marbella vino a nosotros al obtener un MOT en mi automóvil. Anteriormente había estado buscando en la web una empresa que repara techos de automóviles Rag Top / techos convertibles y no pude encontrar un proveedor adecuado en el área de Marbella. Mientras conducía de regreso desde la estación de MOT, vi el taller de Interior Cabrio y conocí al propietario, Sebastian, que no solo es especialista en convertibles sino también restauraciones interiores de cuero y restauraciones de autos clásicos.
Buscaban que su sitio web existente finalizara después de que la compañía anterior hiciera un completo desastre en el sitio web y ni siquiera terminara el trabajo. Después de pedir una cotización en el techo de mi auto, les pregunté si tenían un sitio web y me explicaron que había estado buscando en la web su tipo de servicios y no pude encontrar ninguno. Me preguntan si podría crear un sitio web para ellos que sea multilingüe. Responsive para todos los teléfonos móviles y tabletas, y que tengan la facilidad de trabajar con el CMS de WordPress. De ahí que el proceso de diseño haya comenzado.
Nuestra primera tarea fue hacer su diseño web, rápido y receptivo e incluir todas las imágenes y procesos del proceso de restauración del automóvil. El sitio fue desarrollado en WordPress CMS, necesitaba ser funcional en dispositivos móviles, destacarse del resto, tener una sensación fresca y limpia.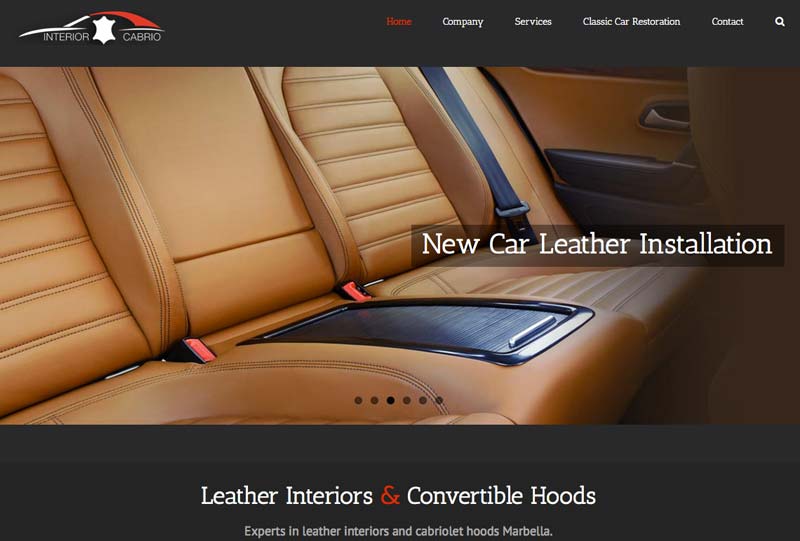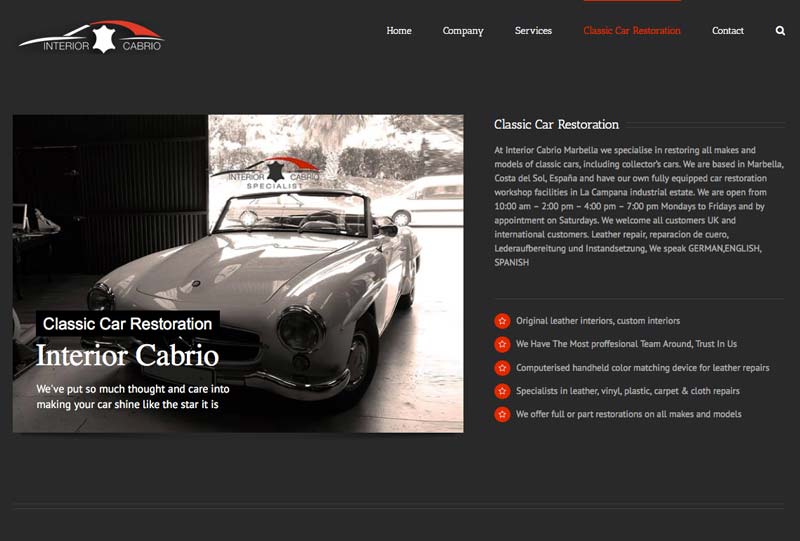 Home Page
Large header images with bold headlines.
Images showing their services.
Place several restoration projects onto the front page.
Call to action sections for various leather treatments.
Reeditamos su logotipo para que se ajuste al nuevo sitio web y utilizamos los colores de su negocio para hacer los diseños de diseño. La idea era poder tener controles deslizantes de ancho completo con sus principales proyectos y servicios destacados, tener sus últimos trabajos en la primera página para que las personas pudieran hacer clic para ver el proceso anterior y posterior, y IMPORTANTE tener el sitio web completamente optimizado para poder encontrarlo. los motores de búsqueda. Se han agregado varias páginas más para exhibir sus restauraciones personalizadas de automóviles y servicios de restauración de cuero.
Company Page
Images of the garage and showcase of cars.
Small introduction and pictures of the team.
Services Pages
Explanation of leather treatments and services.
Leather good and trimmings for custom cars.
Leather repair and finnishing.