Project Description
Mudita music – Responsive, Web Design, WordPress
One of the most fun web design projects I've worked on so far! This website was designed for Mudita Music and one of my best friends and one hell of a DJ / Presenter.
The web design idea was to create a cool work platform and provide information to prospective clients. The overall look and feel of the site was produced to match the clients unique and stylish outgoing personality, classy and chic cool.
Our first task was to make their web design crazy good looking, fast and responsive. Their site was built on WordPress CMS, it needed to be functional on mobile devices, stand out from the rest, have a musical appearance and not be white. We created a great responsive and flexible theme built with the awesome power of WordPress. We performed an SEO audit and strengthened the site's internal SEO factors.
We then performed a full analysis, added all the tools from Google to allow Mudita to check all the stats from the site and provided our findings and our goal to grow their business with our SEO and creative services.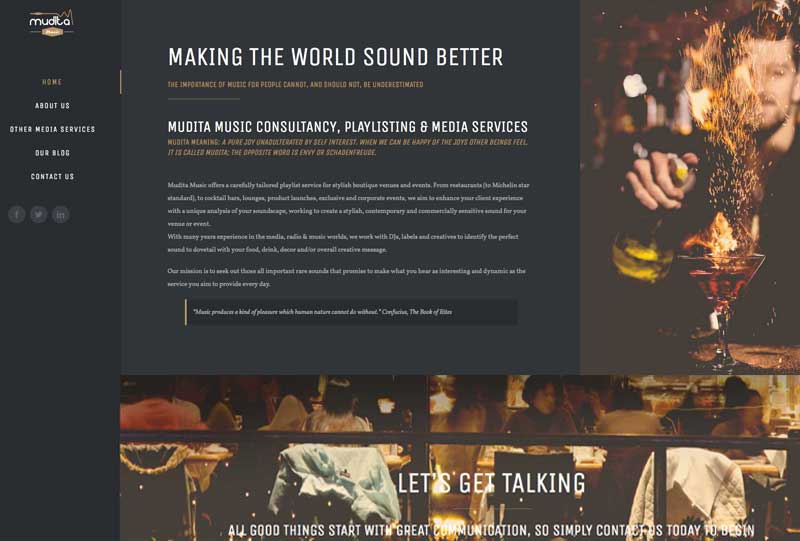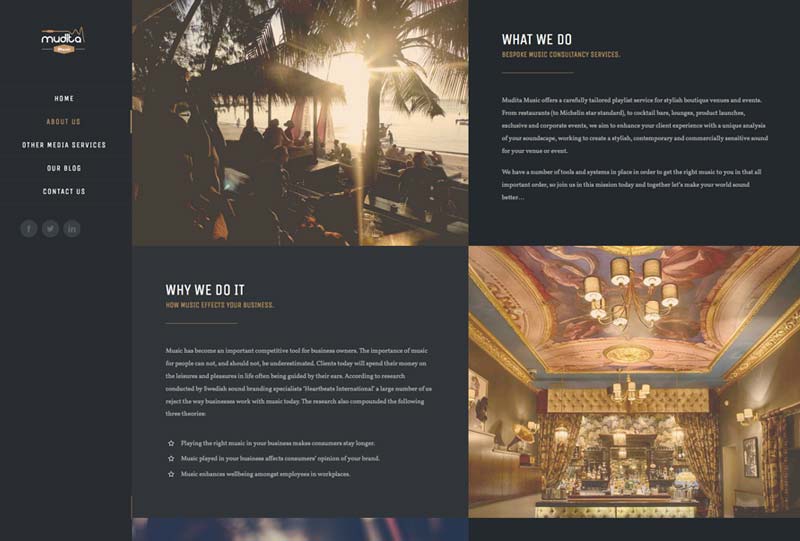 Home Page
Large header image with bold headlines.
Play on images to create feel of the site
Mudita were looking to have a bold image that shows their music Consultancy, Playlisting & Media Services. Web Design idea: crisp, clean, and easy to navigate. They were very interested in controlling all aspects of the website, running inline with a blog to let clients know where and when they will be playing. Priority on the home page to provide general information about their products and services. Contact information, including a phone number, contact form and physical location.
About us Page
Defining the main goals and experience of Mudita music.
The main goal on the about us was to show what they do, where they do it and how they can improve what you have. "Having a personalized touch," he says, "is something small businesses can do that many big businesses can't." Mudita Music.
Media Services Page
Explanation of media services.
Mudita needed customers call to action, want signs or buttons in order to act, be it "Get In Touch" "Buy now" or "Sign up for our newsletter" or "Click here for more information."