Project Description
Squadron Security – WordPress website Design
WordPress website development for security services company based in Marbella. Minimal dark design, fully responsive to showcase the company´s services and training operations.
Squadron Security Services asked us to design their new website using WordPress CMS allowing them to control all aspects of the site. Project outline to include design and development of the complete site, creating a color scheme to suit the security industry. The main objective to create a website that shows the services the security company offers. Additional contact information
We branded the website and created the company logo with direction for the business owner. We used Avada WordPress Theme as a base for the design, using the theme´s custom layout and Fusion builder to allow the client to re structure the website at any time. 1 hopur after completion and the client was able to control / edit every part of the site with minimal effort.
The website was given full SEO positioning service and added  Google tools to allow Squadron Security Services ownder to check all the stats from grow their business with our SEO positioning and creative online marketing services.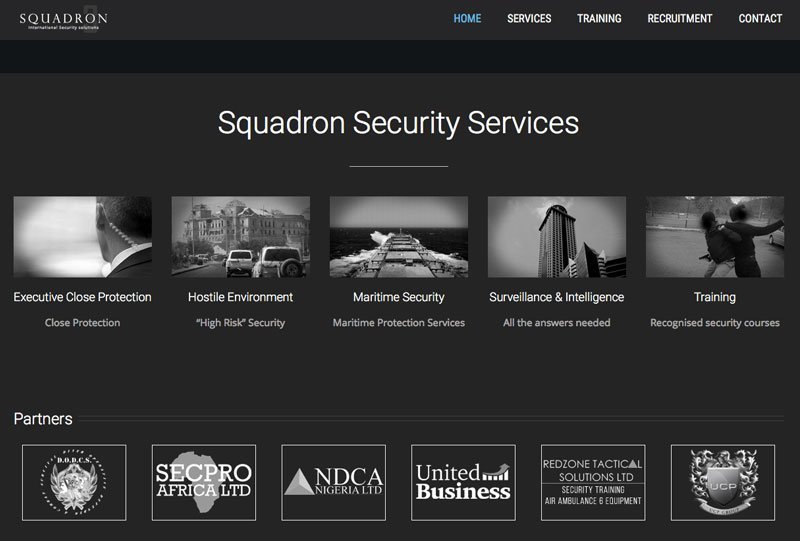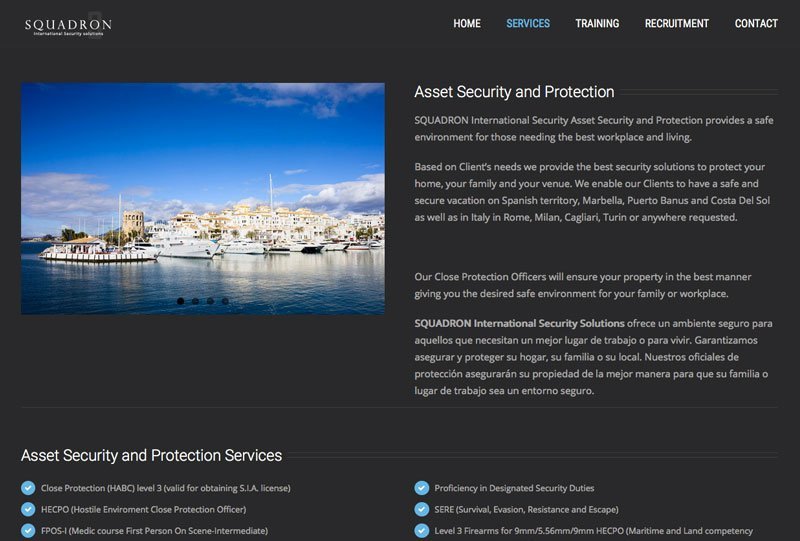 Home Page
Large header image with bold headlines and creative visual.
Add partners logos to front page for recognition
Contact form on the front page.
Squadron Security got a brand new look to the site to offer their Services. Custom Logo design. Web Design idea: crisp, Minimal Dark, clean, and easy to navigate. Total control all aspects of the website. Priority on the home page to provide general information about their products and services.
Services Page
Complete list of services on several pages.
Simple layout with links in main Navigation to all services that Squadron offers. Images showing several services all hand picked from the company records.
Training and recruitment pages

listing of training services
Information about security training
Certifications needed for recruitment