Project Description
Atu Duty Free – eCommerce, Responsive, Website Development, WordPress
Atu Duty Free´s website development was created under direction from Airport Dynamics Peter Marshall (www.airportdynamics.tv) who knew exactly what they needed and wanted, making our design and development process easy. They wanted a smart user friendly interface website that was easy to navigate on all devices. We created a custom WordPress website using large images that offered clean parallax scrolling full eCommerce solution using Woocommerce and incorporating the companies video image directed by Peter Marshall.
The site is fully multilingual using the power of WPML. each section of the website has been translated into several languages including presentation videos.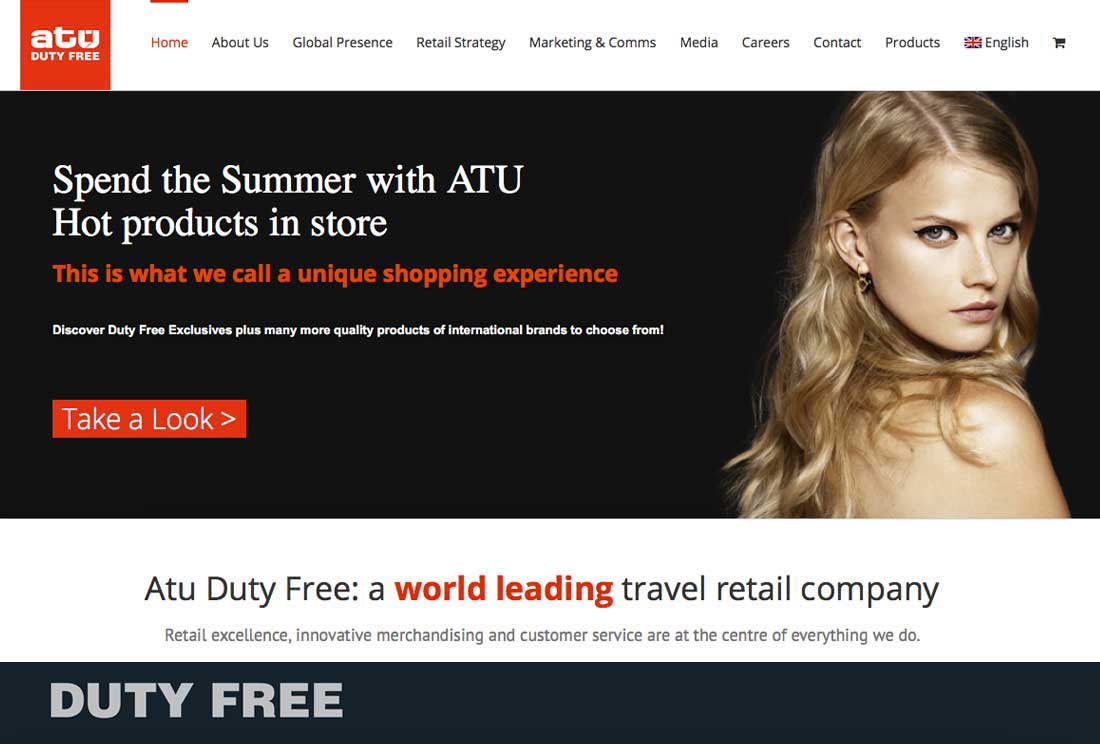 Our first task was to have several design meetings with Peter who´s background in the airport retail industry really helped with creating the clean fresh design. Their site was built on WordPress CMS, it needed to be functional on mobile devices. We created a great responsive and flexible theme built with the awesome power of WordPress. We performed an SEO audit and strengthened the site's internal SEO factors.
The website has several sections that are only available for diplomats, which meant having to make these sections full conversant with the correct laws and codes. The site shows the full use our SEO optimisation and web positioning skills.

Home Page
Large header images of Airport duty free retail outlets.
user interface for all devices, mobile use
Incorporate product categories and products
The over theme was to use video and large images to present product placement and customer service.
Careers Page
Showcasing all of the team at Atu
Lighbox videos used in different languages.
Each of the team members profiles show a video in a lightbox explaining there title and position within the company.
Shopping Page
Full eCommerce shopping site, that allow customers to pre purchase Duty free product.
The site has a pre purchase ecommerce solution. Clients and diplomats can pre purchase Duty free products online and then collect them from the airport duty free retail stores.